Museums
222 Harrington Way, Worcester, MA 01604, 508-929-2700
Sun: 12:00 PM-5:00 PM, Mon: Closed, Tue, Wed, Thu, Fri, Sat: 10:00 AM-5:00 PM
New England's leading science and nature center, the EcoTarium is an indoor-outdoor experience designed to inspire a passion for science and nature in visitors of all ages. The center offers a museum building with three floors of interactive exhibits and is home to live animal habitats, interpretive nature trails through forest and meadow, the Alden Digital Planetarium, a tree canopy walkway (seasonal) and a narrow-gauge railroad.
Upcoming Events
100 Barber Avenue, Worcester, MA 01606, 508-853-6015
Sun: 12:00 PM-4:00 PM, Mon: Closed, Tue, Wed, Thu, Fri, Sat: 10:00 AM-4:00 PM
Visit the Higgins Armory Museum and learn how knights got dressed in the morning - you may even get "suited up" yourself! The Museum brings the world of knights to life through a variety of programs including inspiring and educational Field Trips, unique Group Tours, Birthday Parties, Rentals, Outreaches, and OverKnights.
Wander beneath Gothic arches, listen to the sounds of contest and celebration, and stand face to face with over 70 suits of armor - the heroic legacies of another world and time.
Upcoming Events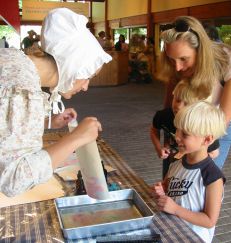 1 Old Sturbridge Village Rd, Sturbridge, MA 01566, 800-733-1830, 508-347-3362
Old Sturbridge Village is a "must-see" destination to experience early New England life from 1790-1840. One of the country's largest living history museums, OSV has a large staff of costumed interpreters, 59 historic buildings on 200 acres.
Upcoming Events
11 French Drive, Boylston, MA 01505, 508-869-6111
Sun: 9:00 AM-5:00 PM, Mon: Closed, Tue, Wed, Thu, Fri, Sat: 9:00 AM-5:00 PM
A year-round living display of blooming plants, including trees, shrubs, perennials, annuals, tropicals, and more. With a panoramic view of Mt. Wachusett region, walking trails, gift shop, and cafe.
Upcoming Events
55 Salisbury St, Worcester, MA 01609, 508-799-4406
Sun: 11:00 AM-5:00 PM, Mon, Tue: Closed, Wed: 11:00 AM-5:00 PM, Thu: 11:00 AM-8:00 PM, Fri: 11:00 AM-5:00 PM, Sat: 10:00 AM-5:00 PM
where art celebrates life
Upcoming Events
30 Elm St, Worcester, MA 01609, 508-753-8278
Sun, Mon: Closed, Tue, Wed: 10:00 AM-4:00 PM, Thu: 10:00 AM-8:30 PM, Fri, Sat: 10:00 AM-4:00 PM
Learn about the history of Worcester through exhibitions, education programs and special events presented throughout the year. Visit Worcester Historical Museum to see hundreds of objects made in Worcester. Listen to the stories of industrial leaders, inventors, and workers. Discover Worcester's common heritage through hands-on activities. Explore the contributions of ethnic groups and individuals through changing exhibitions and special programs.

Find out what Worcester was like in centuries past in the library's reading room. The library is open Tuesday, Wednesday, Friday, and Saturday 10am-4pm; Thursday, 10am-8:30pm.
Upcoming Events
Powered by the Social Web - Bringing people together through Events, Places, & Common Interests